Experienced And Competitively – Priced Rendering Solutions
November 14, 2023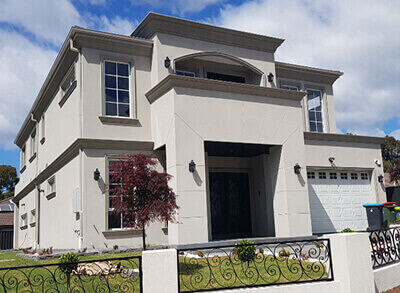 O ur experts offering Melbourne rendering service use 100% acrylic, flexible, waterproof, heat reflective and elasticity products to ensure your fresh look lasts the test of time. Also, combined with our energy efficient Acrylic render system that reflects 50% of solar heat by infrared reflection. Not only are you protecting your investment but you are saving money on your energy bills. So, in effect, your rendering project will pay for itself.

All rendering service comes with our personal 7-year warranty for peace of mind. All the work we have been producing for the last 15 years and continue to do so, is of the highest standard. We can apply acrylic renders to many substrates including painted and non-painted brickwork, block, blue board, foam, Hebel and many more.
BENEFITS
Our rendering service in Melbourne has a number of highlights
Quick, efficient, and levels uneven surfaces to an even finish
Weatherproof & stays cleaner longer reducing maintenance when top coated with Acrashield or membrane protective sealer coating
Many type of finishes in a range of colours
Guaranteed long term exterior durability.